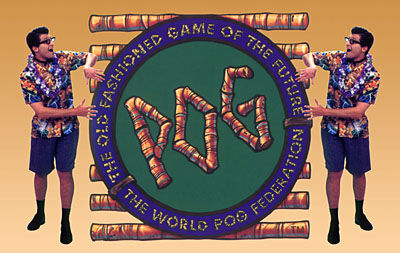 Welcome to the The POG Trilogy Wiki
[
]
This wiki is not about POGs; it is about the promotional Video series that started with Searching for POG and will continue forever in our hearts (because the third part was never made).
I have a lot planned for this wiki, but I'm slow and easily distracted, so it could take a while to show up. Feel free to make edits, but be prepared to back up your claims, especially if you haven't seen the videos.
If you don't know anything about the POG series, move out from underneath that rock and get an apartment or something. Then read the introductory article I'll write as soon as I... do. In the meantime, good places to start are The Videos and the FAQ!
Important Notes
[
]
We're not affiliated in any way with the creators of the POG Videos or The World POG Federation; we're just fans! POG™ is a trademark of The World POG Federation and is used without permission (but with respect and appreciation).
Oh, and SPOILERS throughout!
Latest activity
[
]